Fedora Workstation 32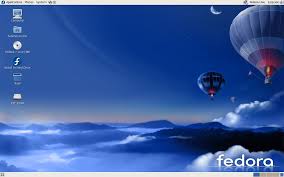 This is the Linux workstation you've been waiting for.
Created for Developers.
Fedora Workstation is a reliable, user-friendly, and powerful operating system for your laptop or desktop computer. It supports a wide range of developers, from hobbyists and students to professionals in corporate environments.
Sleek User Interface.
Focus on your code in the GNOME 3 desktop environment. GNOME is built with developer feedback and minimizes distractions, so you can concentrate on what's important.
Complete Open Source toolbox
Skip the drag of trying to find or build the tools you need. With Fedora's complete set of open source languages, tools, and utilities, everything is a click or command line away. There's even project hosting and repositories like COPR to make your code and builds available quickly to the community.
Virtualization.
Get virtual machines up and running quickly to test your code on multiple platforms using GNOME Boxes. Or dig into powerful, scriptable virtualization tools for even more control.
Containerize. Hack. Deploy.
Containerize your own applications or deploy containerized applications out of the box with built-in Open Container Initiative (OCI) image support.
Download : Fedora Workstation 32 : x86_64 | aarch64 raw image
Share This Post: